Ordering or returning goods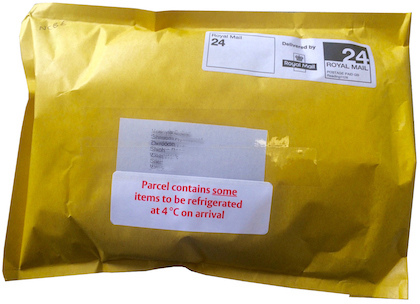 We accept orders by email or post. For those paying by card from an educational institution in the UK, you can also use our online store.
PLACING AN ORDER
Please send all orders to ncbe@reading.ac.uk or if you are based in the UK then you can use our online store. We will no longer be taking orders over the phone. Please try to give at least 5 days notice when placing an order since we are experiencing a high volume of orders. We will endeavour to get kits and resources sent out as quickly as possible, but please do try to give us as much notice as you can.
CUSTOMS CHARGES
I you are ordering from abroad then please be aware of any customs charges there may be, the responsibility is with you as the buyer to pay these charges and your items will not be released by customs unless the charges have been paid.
QUERIES OR TECHNICAL ASSISTANCE
If you would like to speak to someone about an order you have placed or you would like technical advice then please call between 9-11am or 2-3.30pm and we will do out best to assist you.
ONLINE ORDERING
If you wish to pay by credit or debit card, and are ordering from an educational institution in the United Kingdom, you must place your order via Reading University's online store.
Please note that this service is currently available to educational institutions in the UK only.
CANCELLING AN ORDER OR RETURNING GOODS
Occasionally you may wish to cancel an order and return goods to us. Under the United Kingdom's Consumer Contracts (Information, Cancellation and Additional charges) Regulations 2013, you have the right to cancel the contract for the purchase of most goods from us. We regret, however, that we cannot accept the return of perishable items such as microbial cultures, plasmids or PCR primers or bespoke items that we have prepared specially for you.
You have the right to cancel a contract for the purchase of goods within 14 calendar days from the day on which you acquire, or a third party other than the carrier and indicated by you acquires physical possession of the goods. To excercise your right to cancel, you must inform us in a clear statement such as a letter, fax or eMail message. A cancellation form can be downloaded from this page (see links on the right), which you may use if you wish, but this is not obligatory.
EFFECTS OF CANCELLATION
If you cancel the contract to purchase goods, you must return the goods to us within 14 calendar days of your request to cancel. Within 14 calendar days of receipt of the returned goods, we will reimburse all payments received from you, including the costs of standard delivery (but excluding the additional cost if you chose a delivery method other than the least expensive type of standard delivery offered by us). The goods must be returned to us in reasonable condition, such that they may be re-sold. We may make a deduction from the reimbursement for loss in the value of any goods returned, if the loss is the result of unnecessary handling by you (for example, if you have opened or damaged packaging other than the outer packaging in which the goods were sent, or if you have used any of the goods).
Please note that you will be responsible for the cost of returning the goods to us unless we delivered the item to you in error or the item is faulty. Note that if an item is being returned to us because it is faulty, you have additional rights under other legislation, notably the Consumer Rights Act 2015.