Safety Data Sheets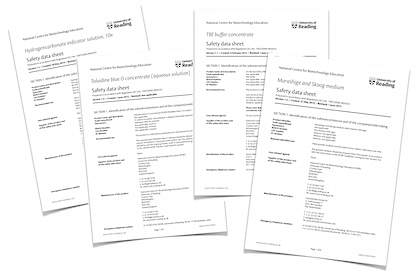 In accordance with Regulation (EC) No. 1907/2006 (REACH) Safety Data Sheets are provided for the substances and mixtures that are supplied by the NCBE. These documents can be dowloaded as PDF files from the links below.
DNA GEL ELECTROPHORESIS
PROTEIN GEL ELECTROPHORESIS
BACTERIAL TRANSFORMATION
Plasmid DNA in calcium chloride
PLANT TISSUE CULTURE
DNA PENDANT KIT
PHOTOSYNTHESIS KIT
OTHER ITEMS
ENZYMES
MICROBIAL CULTURES
These do not require a Safety Data Sheet, but are accompanied by an information sheet.