T4 Bacteriophage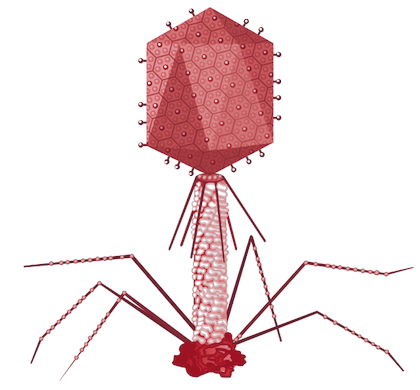 This practical activity (or one very like it) is required by BTEC Level 3 courses in the UK.
Our version is an adaptation of an undergraduate practical.
AIM OF THE ACTIVITY
This practical activity allows students to calculate the number of T4 bacteriophages in a suspension using serial dilution.
EACH STUDENT OR WORKING GROUP WILL NEED
Equipment for basic microbiology
Broth culture of E. coli B strain, 2 mL
T4 bacteriophage suspension, 2 mL
Nutrient or LB agar plates, 6
Tubes containing 3–4 mL each of soft nutrient or LB agar, 6
Universal bottles, each containing 9 mL of sterile distilled or deionised water.
1 mL sterile syringes without needles, 19, OR suitable pipettes with sterile disposable tips
Waste container of freshly-made disinfectant solution (e.g., a 500 mL container of 1% (w/v) Virkon® solution of 5% (v/v) Biocleanse® solution)
Paper towels
T4 BACTERIOPHAGE SUSPENSION
T4 bacteriophage suspension ….. 450 µL …..Not currently available
ASSOCIATED ITEM
E. coli B strain slope culture ….. £18.00 (GBP)
ORDERING
All of the prices on this page are in GBP and do not include Value Added Tax (VAT). This tax applies within the European Union only. Postage and handling must also be paid on orders from outside the United Kingdom. Details of how to order are given on the price list and on the Ordering web page.