Alkaline protease (Savinase)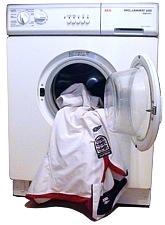 Savinase® is a liquid enzyme preparation containing a protease suitable for use in high pH, low-temparature detergent preparations.
PRACTICAL PROTOCOL
SOURCE
Savinase® is produced by submerged fermentation of a genetically-modified microorganism. The enzyme protein is not itself modified. After fermentation, the enzyme is separated from the production organism and purified.
COMMERCIAL USES
Savinase® is used in detergent formulations to remove protein-based stains, e.g., grass, blood, mucous, faeces and various foods such as egg and gravy.
EDUCATIONAL USES
Protease activity can be monitored in several different ways in the classroom. A common method used to involve using gelatin-based photographic film, but such films are now difficult or impossible to obtain. An alternative quantitative method is to cast gelatine (the sort used in cooking) in the base of a clean Petri dish, then to cut wells in the set jelly using a wide-bored plastic drinking straw. (If you rotate the straw as you cut, the well will be neater and it will be easier to withdraw the plug of gelatine.) The protease solutions (plus a water 'control') should be added to the wells, then the Petri dish should be covered to prevent the liquid and jelly from drying out and be incubated overnight. The next day the diameter of the well can be measured measured, giving an indication of the action of the enzyme. If the enzyme-enlarged wells are not circular, it may help to measure their diameters twice, at right angles to each other and to calculate the average diameter.
We have found that modern fruit-flavoured table jellies are too weak to cut wells in, even when made up with far less water than suggested on the packet. Powdered gelatine (which usually comes from cows rather than pigs) is a better and cheaper alternative and can be made up to the desired strength (we used the 'Dr Oetker' brand with 1/4 of the volume of water suggested). Food colouring can be added to make the wells easier to see, but avoid very dark colours.
Of course the jelly has to contain a protein (gelatine) as the setting agent rather than a vegetarian alternative. Full details of this method are given in the link above left.
ACTIVITY
Savinase® is an endo-protease of the serine type. It has a very broad substrate specificity. In other words, it can hydrolyse most peptide bonds within a protein molecule. Peptides and amino acids are formed which are either dissolved or dispersed in the washing water. Savinase® is active throughout the pH range of interest for most detergent applications, namely pH 8–12 (optimally at pH 10). It functions between 20–60 °C, above which the activity falls rapidly. Its optimal temperature is 55 °C. Some foods, e.g., eggs and potatoes, contain protease inhibitors that may inhibit Savinase® activity.
STORAGE
Savinase® should be stored in a fridge at 3–5 °C. Do not freeze.
SAFETY

DANGER. May cause allergy or asthma symptoms or breathing difficulties if inhaled. Causes serious eye irritation. Harmful to aquatic life with long lasting effects. See Safety Data Sheet for further advice.
SAFETY DATA SHEET
ORDERING
All of the prices on this page are in GBP and do not include Value Added Tax (VAT). This tax applies within the European Union only. Postage and handling must also be paid on orders from outside the United Kingdom. Details of how to order are given on the price list and on the Ordering web page.
Please note: We are unable to supply this product to addresses in the United States of America.
PLEASE NOTE: THE NCBE SUPPLIES THESE ENZYMES TO SCHOOLS AND COLLEGES FOR EDUCATIONAL USE ONLY. COMMERCIAL USERS OF ENZYMES OR THOSE WHO REQUIRE ENZYMES FOR RESEARCH PURPOSES SHOULD CONTACT THE ENZYME MANUFACTURERS OR OTHER SUPPLIERS, NOT THE NCBE.