Catalase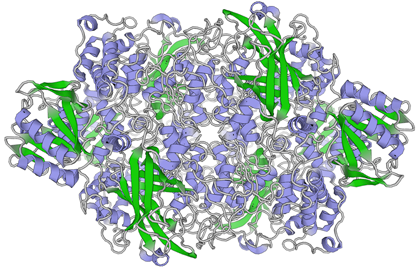 Catazyme® is a highly active microbial catalase.
SOURCE
Catazyme® is a bacterial catalase produced by a genetically modified strain of the fungus Aspergillus niger.
COMMERCIAL USES
Catalase is sometimes used in the food industry for removing hydrogen peroxide from milk prior to cheese production. Another use is in food wrappers where it prevents food from oxidizing. Catalase is also used in the textile industry, removing hydrogen peroxide from fabrics to make sure the material is peroxide-free. A minor use is in contact lens hygiene — a few lens-cleaning products disinfect the lens using a hydrogen peroxide solution; a solution containing catalase is then used to decompose the hydrogen peroxide before the lens is used again.
EDUCATIONAL USE
In the school laboratory, catalase activity can easily be monitored, for example, by adding 0.1 mL of the enzyme to 10 mL of 10 vol hydrogen peroxide in a 250 mL measuring cylinder to which 0.1 mL of washing-up liquid has been added. The volume of the resulting foam in the measuring cylinder can be recorded. Fungal catalase is (noncompetitively) inhibited by ethanol — so ethanol can be used to demonstrate enzyme inhibition (you need roughly 15% ethanol to inhibit the catalase). Unlike catalases from other sources, this fungal catalase does not appear to be inhibited by copper sulphate.
For safety reasons, you may wish to use a microscale investigation of catalase activity. The SAPS website has further details, here.
ACTIVITY
Catazyme® breaks down hydrogen peroxide to oxygen and water. The enzyme can be used at pH 4–10, with an optimum at pH 6. The temperature should not be greater than 60 °C.
STORAGE
If it is stored at 3–5 °C, Catazyme® will retain its declared activity for six months. Do not freeze.
SAFETY

DANGER. May cause allergy or asthma symptoms or breathing difficulties if inhaled. See Safety Data Sheet for further advice.
SAFETY DATA SHEET
CATALASE
Catazyme® ….. 100 mL ….. £20.00 (GBP)
ORDERING
All of the prices on this page are in GBP and do not include Value Added Tax (VAT). This tax applies within the European Union only. Postage and handling must also be paid on orders from outside the United Kingdom. Details of how to order are given on the price list and on the Ordering web page.
Please note: We are unable to supply this product to addresses in the United States of America.
PLEASE NOTE: THE NCBE SUPPLIES THESE ENZYMES TO SCHOOLS AND COLLEGES FOR EDUCATIONAL USE ONLY. COMMERCIAL USERS OF ENZYMES OR THOSE WHO REQUIRE ENZYMES FOR RESEARCH PURPOSES SHOULD CONTACT THE ENZYME MANUFACTURERS OR OTHER SUPPLIERS, NOT THE NCBE.