Cellulase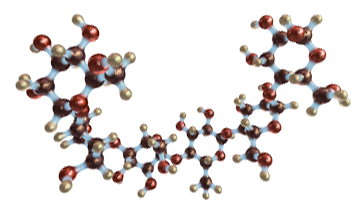 Celluclast® is a preparation used for breaking down cellulose into glucose, cellobiose and longer glucose polymers.
SOURCE
Celluclast® is produced by a selected strain of the fungus Trichoderma reesei.
COMMERCIAL USES
Celluclast® can be used whenever the aim is to break down cellulosic materials into fermentable sugars, the reduction of viscosity of soluble cellulosic substrates, or the increase in yield of valuable products of plant origin. Other cellulases are sometimes used in biological washing powders to prevent 'pilling' of cotton fabrics. They may also be used in the biological 'abrasion' of denim fabrics (an alternative to using pumice stones).
EDUCATIONAL USES
When cellulase is added to a solution of soluble cellulose (carboxymethylcellulose or CMC), the viscosity of the solution falls as the cellulose is broken down. This change can be measured by timing how long it takes for the solution to pass through a syringe barrel. By making up solutions of CMC in buffers of different pHs, the effect of pH on enzyme activity can easily be investigated. The addition of an indicator to the CMC provides a convenient way of distinguishing between the different solutions. We recommend you use a 2% (w/v) solution of CMC and a 3% (v/v) aqueous solution of Celluclast® for this practical. Add 0.2 mL of the diluted enzyme solution to each 10 mL of the CMC solution. This method was previously used as an assessed practical task at A Level.
ACTIVITY
Celluclast® catalyses the breakdown of the glucose polymers that comprise cellulose to glucose, cellobiose (i.e., pairs of glucose units) and longer chains of glucose units. For practical purposes, the optimum conditions for activity of this enzyme preparation are in the range pH 4.5–6.0, and about 50–60 °C. For further details please refer to the data sheet provided with the enzyme preparation.
STORAGE
Generally at a storage temperature of 25 °C, you can expect the enzyme to maintain its declared activity for at least 3 months. At lower temperatures (5–10 °C), the shelf life is considerably increased. Do not freeze.
SAFETY

DANGER. May cause allergy or asthma symptoms or breathing difficulties if inhaled. See Safety Data Sheet for further advice.
SAFETY DATA SHEET
ORDERING
All of the prices on this page are in GBP and do not include Value Added Tax (VAT). This tax applies within the European Union only. Postage and handling must also be paid on orders from outside the United Kingdom. Details of how to order are given on the price list and on the Ordering web page.
Please note: We are unable to supply this product to addresses in the United States of America.
PLEASE NOTE: THE NCBE SUPPLIES THESE ENZYMES TO SCHOOLS AND COLLEGES FOR EDUCATIONAL USE ONLY. COMMERCIAL USERS OF ENZYMES OR THOSE WHO REQUIRE ENZYMES FOR RESEARCH PURPOSES SHOULD CONTACT THE ENZYME MANUFACTURERS OR OTHER SUPPLIERS, NOT THE NCBE.