Pectin esterase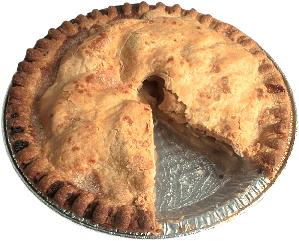 Most 'pectinases' that are sold are a mixture of several different enzymes. NovoShape® is different. It is a preparation of a just one enzyme: pectin (methyl) esterase (sometimes abbreviated to PME). The enzyme strips methyl (-CH3) groups from methoxyl pectin. This allows divalent ions (such as Ca2+) to form cross-links between the pectin molecules, causing them to form a gel. The process can be used to thicken fruit purées without boiling them, and to stiffen fruit pieces used in yoghurts and desserts, reducing wastage and improving the quality and 'mouthfeel' of the product.
SOURCE
The gene encoding this pectin esterase was derived from the fungus Aspergillus aculeatus. This gene was transferred into a production strain of the related food-grade organism Aspergillus oryzae.
COMMERCIAL USES
Strengthening fruit pieces
NovoShape® is used in foods such as pies that contain whole fruit pieces to maintain the fruit's shape and texture and the number of fruit pieces in the final product. It does this by stripping methyl groups from pectin molecules, enabling divalent cations (such as calcium ions) to form links between them. This causes the pectin to gel, strengthening the fruit pieces.
'Keeving'
Pectin esterase can also be used, again with calcium ions, for 'keeving' cider. 'Keeving' is a traditional method used to restrict fermentation so that the sugar in the apple juice is not all converted to alcohol. The enzyme and calcium chloride are added to the apple juice. Cross links between the pectin molecules create a thick pectin layer on the surface of the apple juice, which also contains nutrients that are needed by the yeast. This reduces the growth of the yeast, so a sweeter, lower-alcohol cider is produced.
EDUCATIONAL USES
The effect of pectin esterase on the viscosity of pectin solution can easily be measured. Instructions for this practical investigation are given in the link on the left of this web page.
If you don't want to try the practical, it's worth just adding some enzyme to pectin solution such as 'Certo', which is sold for jam making. The solution will gel in seconds. Amazing!
ACTIVITY
NovoShape® hydrolyses the methyl esterified galacturonic acid units of pectic substances. The product is free of polygalacturonase activity. NovoShape® is active in the temperature range from 10 °C to 60 °C. The enzyme has a maximum activity around pH 4.8, and 50 °C. This activity is however, dependent upon the source and presence of cations (e.g., from magnesium or calcium chloride). Please refer to the data sheet that accompanies the enzyme product for further details.
STORAGE
NovoShape® should be stored in a fridge at 3–5 °C. At this temperature, NovoShape® will maintain its declared activity for at least 12 months. Do not freeze.
SAFETY

DANGER. May cause allergy or asthma symptoms or breathing difficulties if inhaled. See Safety Data Sheet for further advice.
SAFETY DATA SHEET
PECTIN ESTERASE
NovoShape® ….. 100 mL ….. £19.00 (GBP)
ORDERING
All of the prices on this page are in GBP and do not include Value Added Tax (VAT). This tax applies within the European Union only. Postage and handling must also be paid on orders from outside the United Kingdom. Details of how to order are given on the price list and on the Ordering web page.
Please note: We are unable to supply this product to addresses in the United States of America.
PLEASE NOTE: THE NCBE SUPPLIES THESE ENZYMES TO SCHOOLS AND COLLEGES FOR EDUCATIONAL USE ONLY. COMMERCIAL USERS OF ENZYMES OR THOSE WHO REQUIRE ENZYMES FOR RESEARCH PURPOSES SHOULD CONTACT THE ENZYME MANUFACTURERS OR OTHER SUPPLIERS, NOT THE NCBE.