Fixed volume micropipettes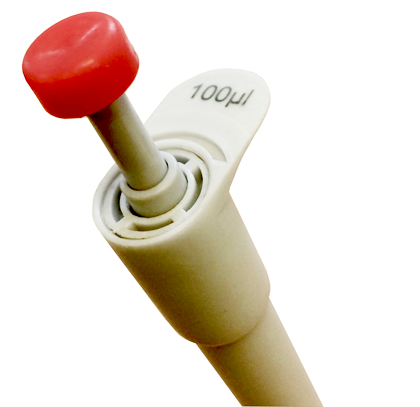 We searched for many years before we found some inexpensive micropipettes we could recommend to schools. Unlike other cheap pipettes, these 'Volac MiniPipets' are accurate, autoclavable and robust. They even have a 'double action' like conventional micropipettes.
ABOUT THESE PIPETTES
We currently supply three sizes of these high-quality fixed-volume micropipettes. The tops of the plungers are colour-coded. All the pipettes are fully autoclavable to 121 °C, and have a two-stage thumbpress to enable the last drop to be blown from the pipettes (see the usage instructions below).
| | | | |
| --- | --- | --- | --- |
| Capacity, µl | 20 | 25 | 50 |
| Cap colour | Lime | White | Yellow |
| Accuracy, % | 0.5 | 0.5 | 0.4 |
| Tip required, µl* | 20 or 100 | 100 | 100 |
*Standard yellow tips have a volume of 100 µl; white microtips supplied by the NCBE have a volume of 10 µl.
INSTRUCTIONS FOR USE
Use good quality standard yellow (100 µl) tips, or white microtips for the 5 µL, 10 µl and 20 µl pipettes (see below).
With the tip not more than 3–4 mm below the surface of liquid, press the plunger 2–3 times to wet the tip. Expel all liquid in the tip by pushing plunger down as far as it will go (the second stop).
Push the plunger to first stop [B]; with the tip not more than 3–4 mm below the liquid surface, allow plunger to return smoothly and steadily to position [A]. This will allow the tip to fill with the measured volume of liquid.
Take the pipette to the container into which you intend to pipette the liquid and with tip at 45° and touching the container wall, push plunger first to position [B] (first stop) then to position [C] (second stop), while dragging the tip up the container wall.
YOU WILL ALSO NEED
Tips (white 10 µl or yellow 100 µl, depending upon the size of the pipette)
PIPETTE TIPS
White 10 µl graduated microtips, 300 ….. £17.00 (GBP)
Yellow 100 µl tips, 100 ….. £9.50 (GBP)
VOLAC MINIPIPETTES
Volac Minipipet …………….. 20 µL …………. £24.00 (GBP)
Volac Minipipet …………….. 25 µL …………. £24.00 (GBP)
Volac Minipipet …………….. 50 µL …………. £24.00 (GBP)
ORDERING
All of the prices on this page are in GBP and do not include Value Added Tax (VAT). This tax applies within the European Union only. Postage and handling must also be paid on orders from outside the United Kingdom. Details of how to order are given on the price list and on the Ordering web page.