Oyster cap mushroom starter culture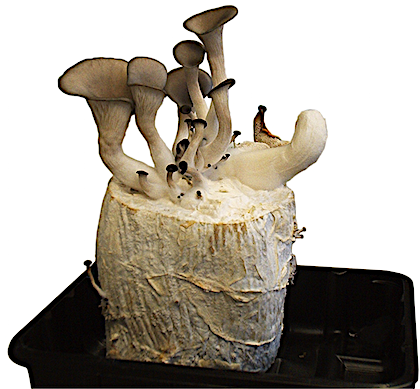 Gastronomes will no doubt be aware of the presence of an increasing range of exotic mushrooms on the supermarket shelves. Pleurotus ostreatus, the oyster mushroom, was cultivated on waste material in Germany as a subsistence measure during World War I. In the Far East, oyster cap mushrooms are cultivated on short lengths of tree trunk. There is, however, no need to go to all this trouble. You just need a toilet roll. Mystified? Then read on…
HOW IT WORKS
In this very simple practical procedure, you:
Pour boiling water into the centre of a toilet roll to moisten it;
After the paper has cooled, and the card inner had been removed, add oyster mushroom starter culture to the centre of the roll;
Cover the roll with plastic film to stop it drying out; Incubate in a warm place for two weeks;
Put the toilet roll in the fridge overnight to trigger the production of the mushrooms;
Keep the toilet roll in a humid place and at room temperature while the mushrooms are produced.
This practical activity can be used as a stimulating introduction to the carbon cycle, lending itself to open-ended investigations e.g., the effect of light, temperature and humidity on fruiting.
YOU WILL ALSO NEED
A toilet roll
Some cling film or a large plastic bag
A plate
Boiling water
A warm place to keep the toilet roll
Access to a fridge
INSTRUCTIONS
GROWING OYSTER CAP MUSHROOMS (PRACTICAL ACTIVITY)
OYSTER CAP MUSHROOM STARTER CULTURE
Oyster cap mushroom starter culture ….. £26.25 (GBP)*
(Approximately 500 g, sufficient for at least 10 standard-sized toilet rolls)
*zero rated for VAT
ORDERING
All of the prices on this page are in GBP and do not include Value Added Tax (VAT). This tax applies within the European Union only. Postage and handling must also be paid on orders from outside the United Kingdom. Details of how to order are given on the price list and on the Ordering web page.