NCBE-SAPS photosynthesis kit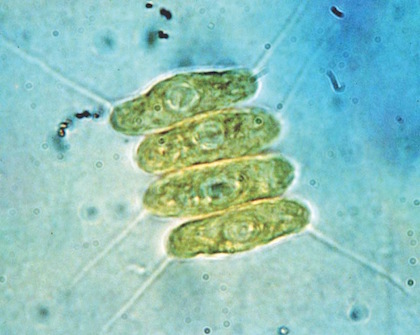 This kit, which is based on one previously supplied by Science and Plants for Schools (SAPS), allows students to investigate photosynthesis semi-quantitatively using algae immobilised in calcium alginate.
ABOUT THIS KIT
Introductory school investigations of photosynthesis include the evolution of oxygen by Canadian pond weed (Elodea canadensis), Cabomba caroliniana* or Ceratophyllum demersum, or testing for starch in Pelargonium leaves that have been decolourised. Both methods are difficult to quantify, and the second method often misleads students.
In this procedure, algae, immobilised in calcium alginate, provide a standardised amount of photosynthetic material, enabling semi-quantitative experiments to be undertaken. The rate of carbon dioxide uptake by the immobilised cells is used to measure the rate of photosynthesis; this can be done simply by observing the colour change of hydrogencarbonate indicator, either by eye or using a colorimeter.
The effect of varying the intensity or wavelength of the light may be studied, as can the effect of temperature or cell density. Different species of algae or cyanobacteria may also be tested. The kit is therefore ideal for individual practical investigations.
This kit is based upon work undertaken by Debbie Eldridge from King Ecgbert School (Sheffield) while working on a SAPS/Robinson College Schoolteacher Fellowship.
Ideal for investigations of factors affecting photosynthesis at A Level, GCSE or equivalent.
* Note that Cabomba caroliniana is now classified as an invasive species, and has been banned for import, culturing or sale under EU Regulation 1143/2014.
KIT CONTENTS
The kit contains:
Syringes, 15
7 mL Bijou bottles, 75
Envelope with six filters (Red, green, blue, ND 0.15, ND 0.3 and ND 0.6)
Hydrogencarbonate indicator, 250 mL of 10x concentrate
Sodium alginate, 4 g
Culture of Scenedesmus quadricauda, ~20 mL N.B. You will need to start growing this culture at least two weeks before the practical session so that you have sufficient for classroom use.
Enrichment medium, 3 g
Students' guides, 8
Teacher's guide
EACH STUDENT OR GROUP WILL ALSO NEED
Lamp (small fluorescent strip lights or 18 W low-energy 100 W equivalent lamps, with a light intensity of at least 1000 lumens, give good results)
100 mL beakers or plastic cups, 2
Tea strainer
Glass or plastic stirring rod
Permanent marker pen
Ruler (e.g., 1 metre rule)
Graph paper or suitable graphing software
Calcium chloride solution, 1.5% (w/v) if using anhydrous CaCl2; 2% (w/v) if using the dihydrate, CaCl2.2H2O, ~100 mL
Distilled or deionised water, ~100 mL
Colorimeter and cuvettes
or
Class set(s) of standard solutions, prepared as described on page 3 of the Teacher's notes.
FOR GROWING THE ALGAE
Aquarium air pump
Aquarium airline tubing and airstone or glass sparger
Cotton wool or foam, ideally non-absorbent, for closing the top of the bottle
Low-temperature lighting, e.g., 18W low-energy bulbs (equivalent to 100W), ideally double-walled,
NCBE-SAPS PHOTOSYNTHESIS KIT
NCBE-SAPS Photosynthesis kit …..£90.00 (GBP)
REPLACEMENT ITEMS
The following replacement items are available for the NCBE-SAPS Photosynthesis Kit:
Hydrogencarbonate indicator, 250 mL (10x) ….. £13.65 (GBP)
Filters, 6 (as supplied in the kit) ….. £14.70 (GBP)
3 g enrichment medium…..£11.55 (GBP)
Students' guides (8) ….. £14.00* (GBP)
FOR BUYING THE ALGAE ALONE PLEASE CONTACT OUR ALAGE SUPPLIER DIRECTLY:
ORDERING
All of the prices on this page are in GBP and do not include Value Added Tax (VAT). This tax applies within the European Union only. Postage and handling must also be paid on orders from outside the United Kingdom. Details of how to order are given on the price list and on the Ordering web page.