Antibiotic production and test cultures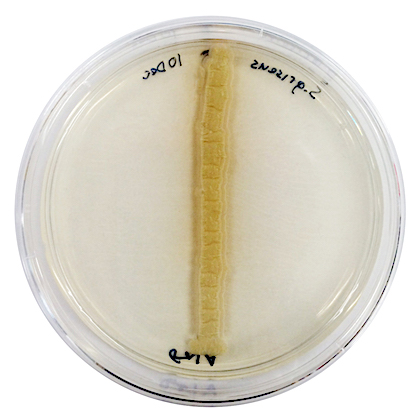 Streptomycin was one of the first antibiotics to be used medically: it was the first effective cure for tuberculosis (TB). Streptomycin is produced by some strains of the bacterium Streptomyces griseus, which release the antibiotic into the surrounding growth medium.
ABOUT THESE CULTURES
This pack comprises a slope culture of a selected strain of Streptomyces griseus, which produces the antibiotic streptomycin.
A single streak of the Streptomyces culture should be grown on a plate of glucose nutrient agar 3–4 days in advance. Students then streak the three test cultures onto the plate at right angles to the Streptomyces. After incubation, students examine the plate to see which of the test cultures is inhibited by the antibiotic. The entire test can be done using just a single Petri dish of glucose nutrient agar per student, or pair of students.
This practical exercise is better and cheaper than the usual methods used in schools. It allows students to test which microbes are affected by the Streptomycin (e.g., prokaryotes, eukaryotes, Gram-negative or Gram-positive bacteria) and it allows them to practise and demonstrate their microbiology practical skills. This is slightly more demanding than placing a Mast ring or antibiotic discs onto an agar plate. Plus students see the organism that makes the antibiotic. Suitable for A Level and equivalent courses (or for younger students whom you wish to set a more challenging practical task).
CONTENTS
This pack contains a slope culture of Streptomyces griseus plus three microorganisms that it can be tested against (you can of course test any other microbes of your choice. For instance, the E. coli strain DH10B is resistant to Streptomycin, while other strains of E. coli may not be):
Bacillus subtilis (Gram positive)
Micrococcus roseus (Gram positive)
Saccharomyces carlsbergensis (Eukaryote)
Full instructions for the practical exercise are provided.
YOU WILL ALSO NEED
Glucose nutrient agar (i.e., nutrient agar with 1% glucose added to it)
Petri dishes
Inoculating loops
Bunsen burners
Autoclave
Disinfectant for cleaning benches
Fine-tipped permanent marker pens
Rulers
Cotton wool buds (needed by technician only)
Nutrient broth (needed by technician only)
Waste pot and a suitable disinfectant, such as 1% (w/v) Virkon® or 5% (v/v) Biocleanse® (needed by technician only)
REPLACEMENT ITEMS
The following replacement cultures are available:
Streptomyces griseus slope culture ….. £19.00 (GBP)
Bacillus subtilis slope culture ….. £19.00 (GBP)
Micrococcus luteus slope culture ….. £19.00 (GBP)
Saccharomyces carlsbergensis slope culture ….. £19.00 (GBP)
ANTIBIOTIC PRODUCTION AND TEST CULTURES
Antibiotic production and testing pack ….. £54.00 (GBP)
ORDERING
All of the prices on this page are in GBP and do not include Value Added Tax (VAT). This tax applies within the European Union only. Postage and handling must also be paid on orders from outside the United Kingdom. Details of how to order are given on the price list and on the Ordering web page.