DNA Pendant Kit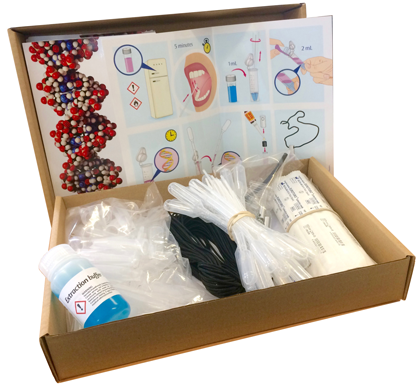 This kit provides sufficient materials to make 30 attractive pendants containing DNA extracted from human cheek cells. It is ideal for science demonstrations on open days, feeder school visits, pupil incentives or fund-raising events such as school fetes.
ABOUT THIS KIT
With this kit, you can extract DNA from cheek cells, then place it inside a glass vial which is designed to be worn as jewellery. The kit includes a full-colour pictorial instruction card to accompany each pendant, which can be supplemented by a sheet of written instructions if desired. (Like an airline safety instruction card, the pictorial instructions deliberately have no accompanying words so that they are suitable for use with different languages.) The attractive and robust pendant is made from toughened glass and polished aluminium and has been designed to appeal to both sexes.
KIT CONTENTS
The kit contains materials for making 30 pendants.
30 full-colour pictorial instruction cards
1 black-and-white instruction sheet (photocopy master)
30 glass vials
neoprene rubber strip to make stoppers for vials
30 aluminium caps for glass vials
30 lengths of black waxed cord for the pendants
30 disposable sterile swabs
30 disposable plastic pipettes
30 5 mL graduated extraction tubes
50 mL of DNA extraction buffer
1 tube of 'Superglue'
YOU WILL ALSO NEED
A small volume of ethanol (about 2 mL per pendant), denatured ethanol or methylated spirits (we cannot include this flammable liquid in the kit due to postal safety regulations)
DNA PENDANT KIT
DNA pendant kit ….. £83 (GBP)
ORDERING
All of the prices on this page are in GBP and do not include Value Added Tax (VAT). This tax applies within the European Union only. Postage and handling must also be paid on orders from outside the United Kingdom. Details of how to order are given on the price list and on the Ordering web page.