Electrophoresis base unit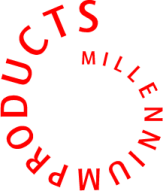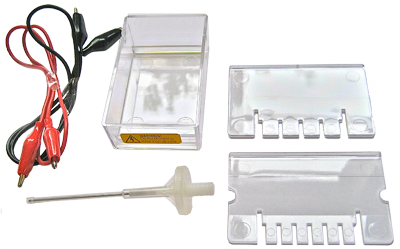 Eight sets of the equipment shown above (a gel tank, two combs, two electrical leads and a microsyringe) are included in the Electrophoresis base unit.
This inexpensive, safe, equipment was developed by the NCBE so that school students could carry out gel electrophoresis with DNA and proteins. It was awarded the coveted Millennium Product status by the Design Council in 2000.
THE BASE UNIT
Our 'base unit' consists of all the re-usable parts you need for gel electrophoresis, except for the 36 volt transformer), which is available separately (one transformer will power up to four gel tanks) . The 'base unit' contains eight sets of electrophoresis equipment.
The consumables to be used for electrophoresis are supplied as 'modules'. There are currently four different modules: 'The lambda protocol', 'Nature's dice', 'The PCR and plant evolution' and 'Protein electrophoresis'. The contents of these modules are also available as individual replacement parts, although it may more economical to buy all of the consumables you need as a complete module.
BASE UNIT CONTENTS
The Base unit contains the following:
gel tanks (8)
4-toothed combs (8)
6-toothed combs (8)
pairs of wires with crocodile clips (8)
microsyringe dispensing units [without tips] (8)
YOU WILL ALSO NEED
REPLACEMENT ITEMS
Individual combs, gel tanks and so on are available; for a full list of spare parts, please refer to the Replacement parts web page.
ELECTROPHORESIS BASE UNIT
Electrophoresis base unit …..£67.00 (GBP)
GENERAL SAFETY ADVICE
ORDERING
All of the prices on this page are in GBP and do not include Value Added Tax (VAT). This tax applies within the European Union only. Postage and handling must also be paid on orders from outside the United Kingdom. Details of how to order are given on the price list and on the Ordering web page.