Plant tissue culture
Cauliflower cloning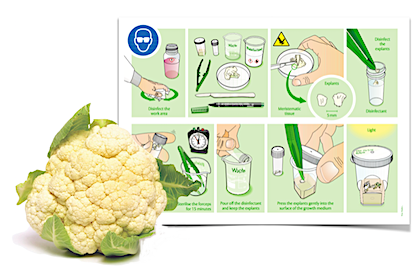 You may have tried plant tissue culture before, and found it time-consuming and unreliable. This innovative kit provides a simple and effective method for plant tissue culture in schools.
INSTRUCTIONS
VIDEO (SAPS)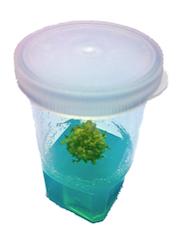 ABOUT THIS KIT
This kit is very simple and safe to use, and unlike traditional plant tissue culture methods it can be relied upon to give good results in a school context. The method used in the kit was developed by the Conservation Biotechnology team at the Royal Botanic Gardens, Kew.
The microwavable growth medium is easy to prepare — no autoclaving is required. Callus tissue will be seen in 7–10 days, and small rooted plants can be produced in just 12 weeks.
One kit is sufficient for 25 students working individually (or 50 students if the plants are not to be rooted and potted on).
This practical task takes only minutes to perform, and at £1 per student, it is ideal for open days, taster sessions and so on. Better still, participants can take their cloned cauliflower plants home with them.
KIT CONTENTS
The kit contains:
Murashige and Skoog agar, 6 g (makes 500 mL)
Culture vials, 50
7 mL bijou bottles, 50
Plastic forceps, 25
Sugar, 10 g
Milton® tablets, 14
Virkon® tablets, 3
Kinetin stock solution, 1.25 mL
Full colour wipe-clean students'instruction cards, 25
Teacher's guide
EACH STUDENT OR GROUP WILL ALSO NEED
a permanent marker pen
a scalpel
a non-sterile Petri dish lid or base, cutting board or tile
a small (e.g., 100 mL) beaker for waste
a small floret from a cauliflower
paper towels
sunny windowsill or lights to illuminate the plant cultures
REPLACEMENT ITEMS
The following replacement parts are available for the Cloning cauliflower kit:
Murashige and Skoog agar, 6 g (makes 500 mL) ….. £7.35 (GBP)
Kinetin stock solution, 1.25 mL ….. £7.35 (GBP)
Empty culture vials for plants, 50 ….. £14.70 (GBP)
Students'instruction cards (25) ….. £15.75* (GBP)
CLONING CAULIFLOWER KIT
Cloning cauliflower kit …..£60.00 (GBP)
DISPATCH
Because this kit contains kinetin solution, which should be stored frozen, kits will be dispatched by first class post Monday to Thursday only.
ORDERING
All of the prices on this page are in GBP and do not include Value Added Tax (VAT). This tax applies within the European Union only. Postage and handling must also be paid on orders from outside the United Kingdom. Details of how to order are given on the price list and on the Ordering web page.