Microbial fuel cell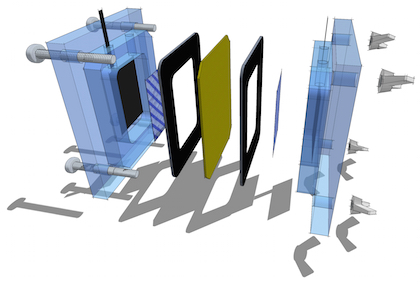 Recently there has been renewed interest in the use of microbial fuel cells to generate electricity from organic waste. This is largely because of the development of so-called 'mediator-less' fuel cells, in which the microorganisms donate electrons directly to the electrode in one half of the cell.
The NCBE's microbial fuel cell, which has been used in schools for 30 years, uses an earlier technology. It is based on pioneering work carried out by Peter Bennetto, formerly of King's College, London. It uses methylene blue as a mediator to 'steal' electrons from the electron transport chain of respiration and donate them to an electrode. Using it, students can generate electricity from the metabolic activities of yeast. It is ideal for studies of respiration.
ABOUT THE FUEL CELL
With readily-available chemicals (such as methylene blue), the fuel cell can be used to generate a small electrical current from the metabolic activities of ordinary bakers' yeast.
Fuel cells like this have been used by a brewery to test the activity of the yeast used for their ales. You can also try using the fuel cell without a mediator (that is, without methylene blue) if you use the yeast Pichia anomala, which is able to donate electrons directly to the anode of the fuel cell (this is not supplied with the cell and must be ordered separately).
The microbial fuel cell is ideal for investigations of respiration and students have even won prizes with it at international science fairs.
FUEL CELL CONTENTS
The following items are supplied:
Fuel cell chambers, 2
Neoprene gaskets, 2
Carbon fibre electrode material
Cation-exchange membrane (50 mm x 50 mm)
Students' guides, 2
Teacher's guide
YOU WILL ALSO NEED
Potassium hexacyanoferrate (III) [Potassium ferricyanide]
Methylene blue
Yeast
Glucose
J-cloth (or similar non-woven cleaning cloth)
Chemicals for making phosphate buffer, pH 7
10 mL syringes, 2
Scissors
Electrical leads and a voltmeter
REPLACEMENT ITEMS
The following replacement parts are available:
Fuel cell electrode material ….. £9.50 (GBP)
Cation exchange membrane (50 x 50 mm) ….. £13.65 (GBP)
Slope culture of Pichia anomola ….. £19.00 (GBP)
MICROBIAL FUEL CELL
Microbial fuel cell ….. £70.00 (GBP)
ORDERING
All of the prices on this page are in GBP and do not include Value Added Tax (VAT). This tax applies within the European Union only. Postage and handling must also be paid on orders from outside the United Kingdom. Details of how to order are given on the price list and on the Ordering web page.